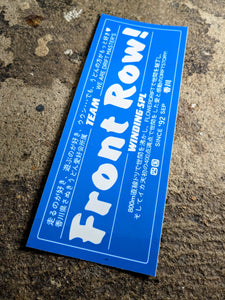 Team Front Row!
Regular price
$6.00
$0.00
Unit price
per
Team Front Row!

走るのが好き、遊ぶのが好き、ウウン・・・でも、うどんの方がもっと好き♥
"I love running, I love playing, but I love udon even more"

香川県さぬきうどん愛好会所属
"Member of the Kagawa prefecture sanuki udon lovers club"

800m直線ドリで世間を沸かし、FLOWERDRIFTで世間を魅了し、
そしてイカ天初の400点満点で世間をした愛と感動のDRIFTSTORY!
"Exciting the world with an 800m chokudori, captivating hears with flower drift,
and a perfect score of 500 in the first Ikaten. A drifting story of love and emotion
that moved the world!"p
7 x 2.5" in size
Professionally printed on high-quality outdoor vinyl

Sun & weather resistant
Die-cut for easy application
This is a part of a series of meticulous reproductions of old-school Japanese drift and street-racing (hashiriya) team stickers. Most of us aren't lucky enough to have originals of these stickers. If we do, they're so rare you'd be hard pressed to actually stick them on your car. These reproductions solve those problems.
---
Share this Product