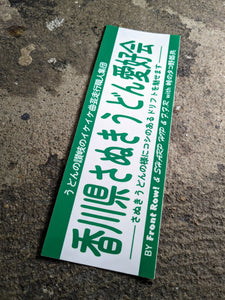 Sanuki Udon Club
Regular price
$6.00
$0.00
Unit price
per
うどんの讃岐のイケイケ曲芸走行職人集団
"Sanuki udon high-spirited acrobatic drifting artisan"

香川県さぬきうどん愛好会
"Kagawa Prefecture Sanuki Udon Enthusiast Club"
さぬきうどんの様にコシのあるドリフトを魅せます
"Drifting with the firmness of sanuki udon"
BY Front Row! & SHARP MP & FF with 峠のタコ野郎共 峠のタコ野郎共
"By Front Row! & SHARP MP & FF with touge octopus guys"

7 x 2.5" in size
Professionally printed on high-quality outdoor vinyl

Sun & weather resistant
Die-cut for easy application
This is a part of a series of meticulous reproductions of old-school Japanese drift and street-racing (hashiriya) team stickers. Most of us aren't lucky enough to have originals of these stickers. If we do, they're so rare you'd be hard pressed to actually stick them on your car. These reproductions solve those problems.
---
Share this Product